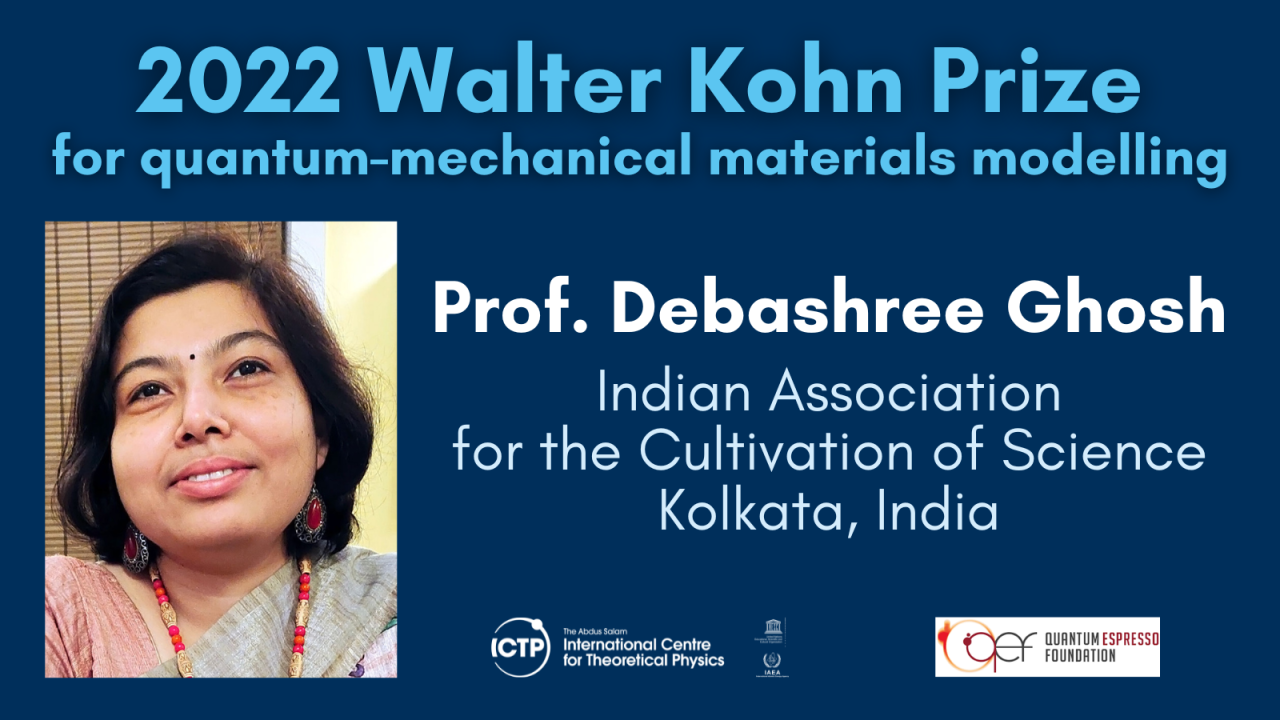 The 2022 Walter Kohn Prize for quantum-mechanical materials and molecular modeling has been awarded to Debashree Ghosh, of the Indian Association for the Cultivation of Science in Kolkata, India. The prize recognises her "pathbreaking work in developing novel quantum chemical tools for materials design and the study of biological function. Combining techniques from physics, chemistry and biology, her work has made important advances in our understanding of strongly correlated materials and complex biological systems."
Ghosh will receive the prize at a ceremony to be held on 12 January 2023 at ICTP, during the Centre's 21st International Workshop on Computational Physics and Materials Science: Total Energy and Force Methods.
Debashree Ghosh earned her MS degree in chemical sciences from the Indian Institute of Science, Bangalore, in 2005, and her PhD degree in chemistry at Cornell University in 2010. She is currently a professor at the School of Chemical Sciences, Indian Association for the Cultivation of Science. Her research focuses on the development and application of methods to understand photophysical processes in biological and condensed phases.
"Very simply, Debashree Ghosh has established herself as one of the two or three leading younger theoretical chemists in the world," wrote Nobel Laureate Roald Hoffmann in the nomination letter. "Her work bridges both formalistic theory and applications of theory to materials and biological function. She has given the community the tools needed for materials design and for the theoretical understanding of biological function. And she has come up with reliable and understandable and practical approximate methods."
The Walter Kohn Prize was established in March 2016 by ICTP and the Quantum ESPRESSO Foundation (QEF) in honour of Chemistry Nobel Laureate Walter Kohn, a leading condensed matter physicist who developed density functional theory (DFT), a method that drastically reduces the amount of computing power needed to model the properties of complex materials, without compromising the accuracy of a model's simulations. DFT has already had a big impact on a wide variety of fields, including chemistry, molecular physics, medicine and engineering. It also has opened the door to contributions from scientists from disadvantaged countries who have no access to huge supercomputers, due to its low computing costs and the wide availability of open source modeling software. The prize is awarded jointly by ICTP and the QEF every two years, but was not awarded in 2020 due to the COVID-19 pandemic outbreak.
"The 2023 Walter Kohn Prize honours the work of an eclectic young woman scientist whose keen intellect has produced several ground-breaking advances in electronic-structure theory," said Stefano Baroni, QEF's founding director and professor of theoretical condensed-matter physics at the International School for Advanced Studies (SISSA). "Dr. Debashree's multi-faceted research style is unique and encompasses the entire cycle of electronic-structure theory," added Baroni. "She develops new exquisite theoretical methods; she implements them in state-of-the-art computer codes that researchers from all over the world can utilise; she uses them to take on challenges at the leading edge of scientific and technological research. I believe that Walter Kohn would have rejoiced at the choice of the prize committee, who have rewarded the fine handicraftsmanship and deep ingenuity of a modern Renaissance artisan-artist from the East."
The Quantum ESPRESSO Foundation is home to some of the most popular and internationally recognised open-source codes for quantum-mechanical materials modelling, mainly based on Density-Functional Theory. ICTP and QEF regularly organise schools on computer simulations of materials, especially in developing countries.