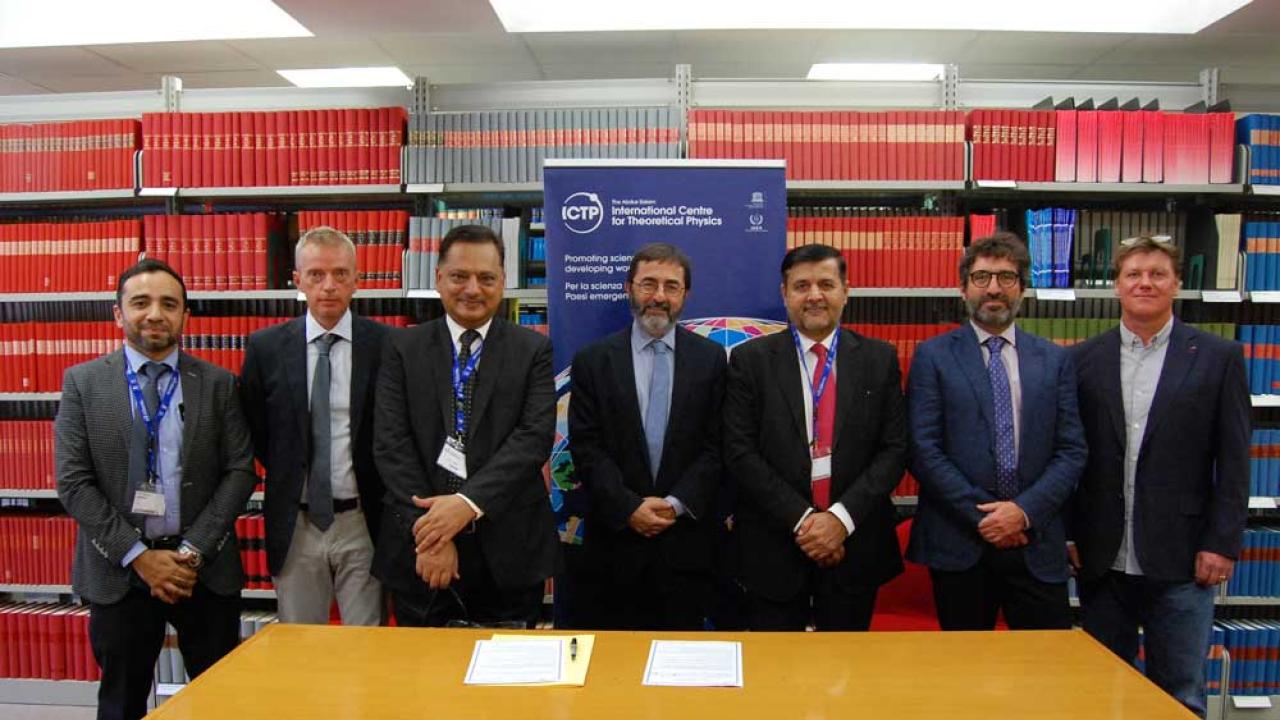 Networking is a big part of a scientist's life: important for an individual career and even more important for science communities. As a resource for scientists in developing countries, one of ICTP's key roles is helping to build bridges between emerging scientific communities in developing countries and international networks. A brand-new master's degree programme in mathematics, established jointly with COMSATS University Islamabad in Pakistan (CUI), is the latest bridge-building effort, with ICTP's Mathematics section sponsoring and coordinating internationally recognized researchers to supplement lectures and courses.
"It was through the prestige of being named an ICTP affiliated centre, which is a programme of the ICTP Office of External Activities, that the leadership of the university allocated the programme a significant budget," says Stefano Luzzatto, ICTP mathematician and a key figure in setting up the master's programme. Courses start in September 2019.
ICTP and CUI have just signed a Document of Understanding, marking the formal start of a collaboration that will welcome many students. A ceremony September 16 celebrated the goals of providing quality education to mathematics graduate students, to grow research capacities and communities, and to futher international collaborations in mathematics in the region. Photos of the ceremony can be found here.
The financial support will make a lot possible, including 10 fellowships for students from Pakistan and 5 for students from countries belonging to the Commission on Science and Technology for Sustainable Development in the South (COMSATS) organization, a brainchild of ICTP's founder Abdus Salam. The ICTP Office of External Activities will also award up to 5 fellowships every year to exceptionally well qualified applicants from developing countries, especially in the region.
The mathematics department of CUI at the Lahore campus has 30 faculty mathematicians to teach various courses, and this programme will add to that by selecting and inviting top mathematicians from outside Pakistan for visits to teach and work with students. As an ICTP affiliated centre for the South Asian Region, CUI will be able to expand international research collaborations as well as strengthen the graduate programmes it offers to young mathematicians.
The new international master's degree is composed of one and a half to two years of classes, capped off by a thesis of original research. But instead of multiple courses lasting a whole semester, students will take three intensive courses over three months, with well-known visiting mathematicians teaching some of the courses. The schedule for the inaugural class in fall of 2019 includes visiting professors from the University of St. Petersburg, Imperial College London, and the University of Pisa, adding to the types of courses that can be offered by CUI Lahore faculty and ICTP collaborators. 
ICTP's affiliation is connected to quality worldwide, and that reputation can help open doors for exchange and collaboration internationally. Internationalizing is a key goal for CUI, from sponsoring students from abroad, faculty exchange programmes, and joint degree programmes such as the new master's programme. One of the hopes for the new programme is that with increased connection with the international mathematics community, the graduating masters students will have increased opportunities to enroll in prestigious PhD programmes around the world. "The goal is to recruit top students in order to take advantage of the level of the invited professors," says Luzzatto. "COMSATS is committed to a high visibility recruitment drive to institutes throughout the country and region."
The faculty at CUI Lahore will also be building their own networks: as part of the collaboration, they will be able to foster collaborations with the high level mathematicians who will be visiting as lecturers. Another effort to expand connections involves getting funding: successful ICTP-CUI programmes hopefully will pave the way for future projects to be set up, approved, and funded by international organizations.
This partnership is great news for mathematics students in the region: not only will there be a new well-curated and designed master's degree to apply to, but in time the collaborations it spurs will build a stronger mathematics community and stronger connections to international research communities. "Setting up the programme required a lot of work and negotiations at all levels," says Luzzatto. "This is just the beginning, and the real work begins now, but it has the potential to make a significant impact in Pakistan and the region."
---- Kelsey Calhoun