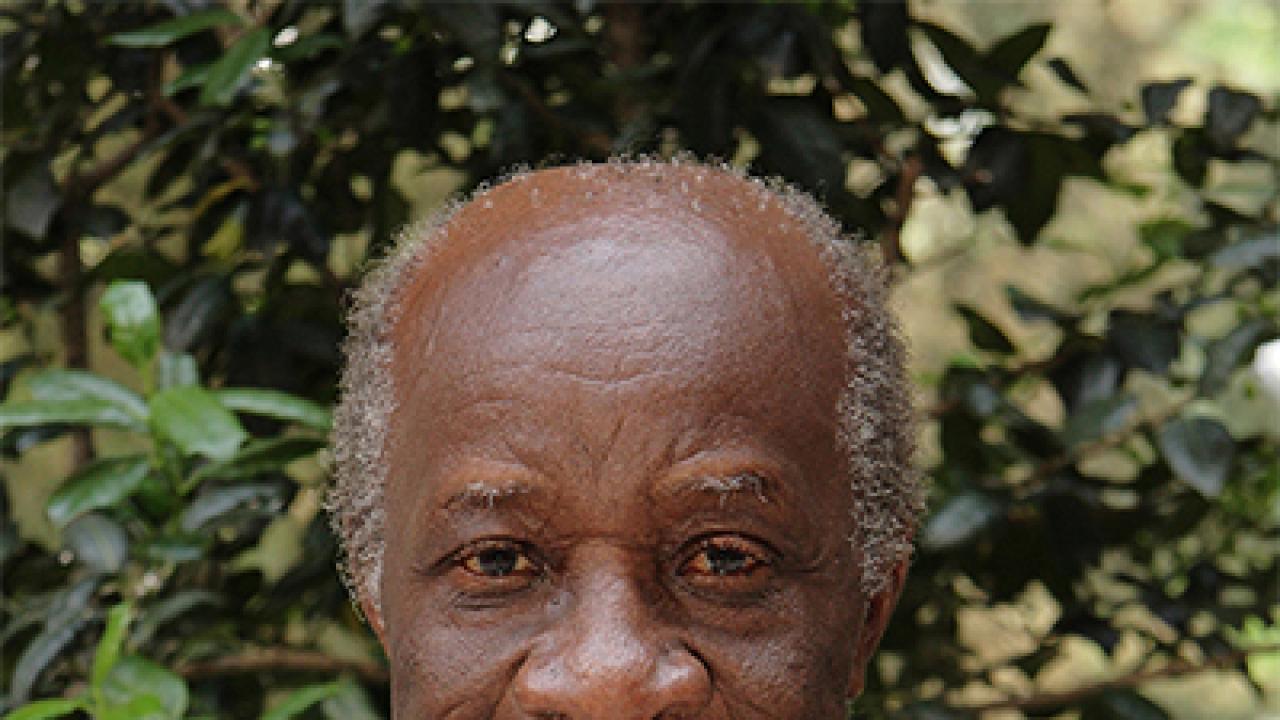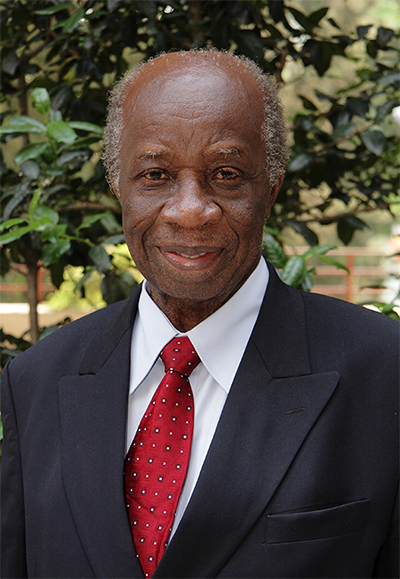 Francis Allotey (Photo credit: ICTP Photo Archives/Roberto Barnaba)
Francis Allotey, an internationally renowned physicist and mathematician, passed away on 2 November 2017. One of Africa's most eminent scientists, Allotey played a key role in the scientific direction of ICTP as a member of its Scientific Council since 1996.
WATCH: Francis Allotey profiled on "African Voices", a CNN programme highlighting "Africa's most engaging personalities" 
Born to a general merchant and a dressmaker in Saltpond, Ghana, Allotey credited his early love of reading, especially biographies of renowned scientists such as Newton, Einstein and Gallileo, for his eventual career as a successful physicist. "I decided that I would also be a great scientist to learn more about the workings of the cosmos and to contribute to its understanding," he wrote in "One Hundred Reasons to be a Scientist", a book of essays by notable physicists published by ICTP.
Allotey attended university in the United Kingdom, eventually landing at Imperial College, where he was a student of ICTP founder Abdus Salam. He returned to Ghana in 1960 to teach in the Department of Mathematics at Kwame Nkrumah University of Science and Technology (KNUST). In 1962, he began PhD studies in mathematical physics at Princeton University during a period of great excitement for physics. "Oppenheimer, Dirac and Yang from the Princeton Institute for Advanced Study regularly visited the department," he wrote in "One Hundred Reasons". At that time, Princeton physicist Val Fitch and his colleagues were working on their Nobel winning experiments on CP violation, while Robert Dicke, another Princeton professor, and collaborators "were measuring oblateness of the sun, the cosmic background radiation of the universe and the gravitational constant to the accuracy of one part in 100 billion," wrote Allotey, adding, "As a graduate student, I occasionally assisted in some of the measurements of Dicke's group."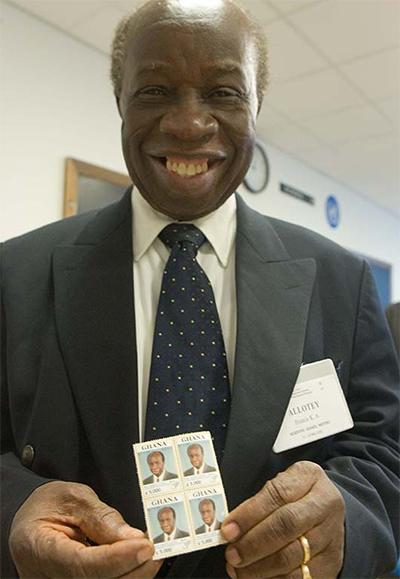 Francis Allotey holding the stamps produced by his home country, Ghana, in his honor (Photo credit: ICTP Photo Archives/Massimo Silvano)
Allotey went on to become head of department, founder and first director of the KNUST Computer Centre, as well as dean of the Faculty of Science and pro-vice chancellor of the university. He held other prestigious positions, including president of the Ghana Institute of Physics and the Ghana Academy of Arts and Sciences, and was the founding president of the African Physical Society. Ghana awarded him its Millennium Excellence Award in 2005, and dedicated a postage stamp to him.
Allotey's affiliation with ICTP began long before his term as member of its Scientific Council. In 1967, he attended ICTP's first Winter College on Condensed Matter Physics. It was there that he met ICTP scientist Erio Tosatti, at the time a PhD student, forming a friendship that endured over the decades.
Indeed, the friendship survived a particularly harrowing ordeal for Tosatti in Allotey's home country, where he had agreed to be a lecturer at the first ICTP-UNDP African College on Condensed Matter Physics, organized by Allotey. "As it happened," Tosatti recalled, "during that College there was a military coup, upon which Francis disappeared and we were stuck in the Atomic Energy campus near Accra — students and lecturers alike — with limited food and zero possibilities to leave. That lasted some ten days, actually rather grim. The princely reappearance, again sudden, of Francis Allotey and his resuming charge was the magic event that marked some return to normality so that the College could wind up and we could eventually leave."
Reflecting on Allotey's death, Tosatti added, "With his unchangingly affable manners, great humanity and broad knowing smile, he never gave a hint that he might be on the verge of departing.  Like many of us, I will miss him greatly."
A state burial for Allotey was held in Ghana in February 2018; ICTP was represented by Charles Chidume, formerly of ICTP's Mathematics section and now head of the Department of Pure and Applied Mathematics, African University of Science and Technology.
Related materials: